5 May 2021
Supporting Scotland's Recovery
Scotland Excel's chief executive Julie Welsh explains how our construction frameworks can support Scotland's social, economic and environmental recovery
When we started our campaign 'Supporting Scotland's Recovery' the objectives were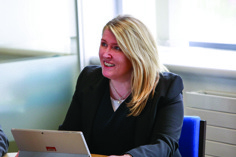 clear; 'to collaborate with and advise the public and private sectors to aid the economic, social and environmental recovery of the nation during the Covid-19 pandemic'.
It's a wide-ranging objective but it galvanised our employees and focused our attention on helping our members by using our expertise, networks and collective buying power. It impacts every one of our 70+ frameworks and we've looked at each one to ensure it's working to meet the campaign objectives and the objectives of our members.
One of the many things that became clear during the campaign is the appetite of the construction sector, and particularly the housing construction sector, to get back to building vital affordable homes.
Working with multiple partners, including the Scottish Government, Construction Scotland, COSLA and sitting on the Construction Industry Coronavirus Forum (CICV), alongside trade and professional bodies, we've been immersed in the sector's recovery. This partnership working and sharing of ideas and issues has proved invaluable and is not only beneficial now, it is also helping to shape our new frameworks and renewals.
The Scottish Government has committed to build 100,000 new homes by 2032, and at least 70% of these for social rent. Construction will play a major part in supporting Scotland's recovery and is one of the largest employers in Scotland. Through partnership working, Scotland Excel can help the government to achieve its goal to build new affordable homes and create employment opportunities in local communities.
New Build, First Builds
We have a unique position within the Scottish public procurement sector because we are the only organisation to work in partnership with the 32 local authorities and an increasing number of housing associations on collaborative procurement. This creates opportunities, recently demonstrated by several major projects coming through our new build housing framework. North Ayrshire Council has started to build 71 affordable homes at the Harbourside Project in Irvine, Stirling Council has a 22 home project in Cowie, and Loreburn Housing Association has awarded two major projects to build 27 homes in Annan and a further 75 in Dumfries.
With several more projects being finalised, the new build framework currently has a combined spend of £61m and 325 vital affordable homes being built, and it is also helping the government to achieve its ambitious target.
Our other construction frameworks including Engineering and Technical Consultancy, help councils source a range of specialist services to support construction infrastructure across Scotland. Spend through this framework is around £18m per year, with 31 UK suppliers and 11 of these listed as SME or micro businesses and over a quarter based in Scotland.
And the second generation of our Energy Efficiency Contractors framework, set to go live in November, will help councils and housing associations achieve their energy efficiency goals and help to make Scotland a net-zero nation by 2045.
As a centre of procurement expertise, we harness the power of public procurement to drive local and national economic growth and wellbeing. Our goal is to help our members deliver the sustainable services that every community needs.
I'm confident that by continuing to work together and sharing best practice we can all help to achieve the economic, social and environmental recovery of our nation.